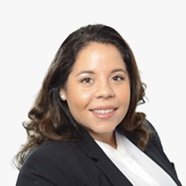 Eloisa Falcón López
Counsel
Education
University of Paris I Panthéon-Sorbonne
Master in International Economic Law, Cum laude, 2013
University of Paris I Panthéon-Sorbonne / Università degli Studi di Milano
Master (Maîtrise) in International Law, Cum laude, 2012
University of Paris I Panthéon-Sorbonne
Bachelor of Law and Political Science, 2011
Languages
English
Italian
French
Spanish
Professional background
Ms. Eloisa Falcón López is a specialist of international public and economic law and is regularly involved in complex high stake international disputes, including international investment and commercial arbitration.
Ms. Falcón López has a wealth of experience in international arbitration, in particular investor-State cases, where she often plays key roles defending and representing clients before arbitral tribunals working under the major arbitration rules such as ICSID, ICSID's Additional Facility, UNCITRAL or the ICC rules.
Prior to joining the firm, Eloisa interned in the international arbitration departments of leading US and French law firms in Paris and Caracas, at the Secretariat of the ICC International Court of Arbitration as well as in the international contracts department of EDF- Electricité de France.